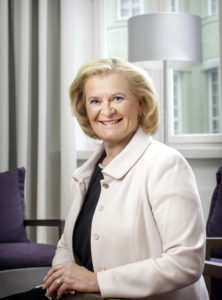 "The electricity grid is the energy backbone of industrialised society. Electricity is an absolutely essential form of energy, and without it our daily lives would grind to a halt and ICT-based services would be paralysed. We need access to a sufficient amount of electricity at all times. An electricity grid transmission reliability of nearly 100% shows that Fingrid has been successful in its fundamental task, which is maintaining our power system," says Marjo Miettinen.
As part of the EM Group, Ensto participates in safely delivering electricity to the end consumer.
"Fingrid's role as the party responsible for maintaining Finland's power balance at all times means that it has a very central role in our power system. This role will become even more critical as the amount of renewable and difficult-to-predict forms of electricity make up an increasing share of production. Electricity is the foundation of the information society, digitalisation and advanced services. A diverse production structure, efficient distribution and the massive potential for emission-free energy opened up by technology development make electricity the dominant source of energy."
An energy-efficient future is increasingly electric
"Electronic solutions are replacing less energy-efficient fossil fuel-based systems that are also less advantageous in terms of the environment and economy. This is the case in both industry and transport, where the use of electric energy is growing fast. In lighting, LED technology has almost completely replaced the use of traditional light sources at new building sites. The electricity grid that serves the energy-efficient buildings and electric transport of the future will be a smart marketplace," envisions Miettinen.
Our open transmission connections make Finland a part of the European electricity market. The subsidy policies of other countries also have an indirect effect on us, making it necessary to consider the functionality of our market and especially the sufficiency of capacity. Renewable forms of energy account for approximately 45% of Finland's energy production, with hydroelectric power making up the majority of this.
"In this sense, energy security is very much in our own hands. At this time, wind and solar power make up less than 5% of total energy production, and we can expect this figure to increase. The predictability of wind and solar power puts more pressure on power balance maintenance and challenges Fingrid to find solutions that will further increase the amount of renewable energy. There is a growing need for demand response, which matches consumption with production in a more market-oriented manner. Along with energy review, the question of power balance will receive more attention," says Miettinen. •