Fingrid has begun using Arlo Go cameras on several of its worksites. The live feed is used for a variety of worksite supervision needs, as well as worksite meetings, quality control, reception inspections and access control.
"The aim is for real-time video to become an additional tool that saves time and money in worksite supervision. The remote video solution also improves occupational safety, as experts can avoid making long car journeys to worksites. Furthermore, it has also been necessary to minimise contact between people during the coronavirus pandemic," says Senior Project Manager Risto Ryynänen from Fingrid.
Fingrid has partnered with Sitema Oy to develop the new tool. A trial began in October 2019 using two cameras, and by March 2020, it expanded to 17 Arlo Go cameras on various Fingrid sites.
The Arlo camera is mounted on a helmet or a drone. When the camera is on a helmet, the user's hands remain free. The device is wireless, and the connection to remote users takes place via a smartphone or web browser.
"The person with the camera can talk to remote viewers using a Bluetooth headset or the bidirectional audio connection built into the camera," says Juuso Männikkö, Development Director at Sitema.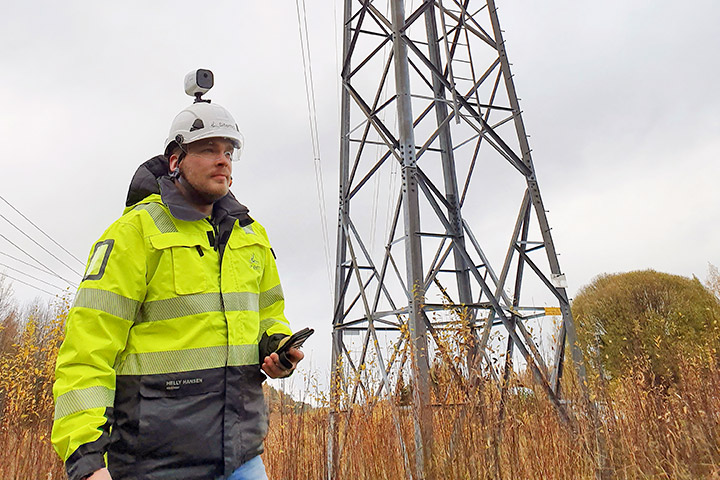 "The people connected remotely can watch a real-time video feed on a computer or mobile device. The video can be viewed on the Arlo portal or monitored and saved on Teams."
Arlo cameras have also been used for access control. Mounted cameras can also be detached if pictures of something else are needed. Thanks to the infrared feature, the camera can also provide detailed images in dark conditions.
"Inadequate network connections on some times have caused problems with image quality or prevented the camera from being used at all. In the main, the image has been clear and sufficient. The person wearing the camera should avoid moving too quickly. When the Arlo is stationary, it provides a very detailed image of the work or monitoring site," Ryynänen says.
Savings have been realised in terms of both working hours and emissions. For example, a safety walk was conducted at the Pyhäselkä substation in Muhos via a remote connection. Instead of flying eight people out from Helsinki, only the worksite organisation and the Arlo helmet cam were needed on-site.
"We have had positive experiences during the testing phase. We hope to be able to use Arlo more frequently and in more types of situations," says Jarkko Kaisanlahti, Regional Manager for Northern Finland.
"Remote connections are highly beneficial in the event of sudden disturbances or faults because several experts can assess the situation."
Fingrid and Sitema are monitoring technological developments with interest, and they take an open-minded approach to experimenting with new solutions. Augmented reality, smart glasses, 360-degree imaging, and artificial intelligence, which is developing in leaps and bounds, provide opportunities for creating new, safer and more efficient operating models.