In January, a 110-kV tower in a customer's branch line fell, causing a disturbance in the Hirvisuo–Wisaforest A transmission line near Kokkola. The duration of the disturbance was exceptionally long, over half an hour, and led to interruptions in electricity delivery in the region of Kruunupyy.
The disturbance would have been much longer with greater costs if Kinnunen and Ekdahl from Kokkolan Energia's electricity transmission company Kenet Oy had not sprung to action. The men, who work in Kokkola, were at the connection site in under fifteen minutes. Kenet Oy has no operational obligations, so the assistance was selfless. It would have taken significantly longer for Fingrid's own maintenance personnel to reach the site.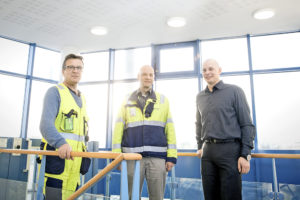 "It was very windy that day. Around noon, there was an unusual flicker in the office lighting, and I went to the control room to check that Kenet's own network was ok. I called the Main Grid Control Centre, where the fault was already known and located. When the Main Grid Control Centre asked for help, we got going right away," Kinnunen tells us.
Repairing the fault required a field visit. The faulty component needed to be disconnected to ensure the functioning of the grid.
"Speed is key in fault situations, and in this case, cooperation worked really well. The disturbance didn't cause any major problems," praised Fingrid's Operation Specialist Kimmo Toivonen as he brought the company's thanks and presents to the men after the event.