CollectiveCrunch is a seven-person growth company specialising in data mining and machine learning. During the two-day event, it produced exactly what was expected from the hackathlon: an application that directly benefits business and doesn't require a lot of refinement.
"We created an application that significantly improves Fingrid's forecasting models. For example, we improved the accuracy of the electricity consumption forecast by 50%. We also improved the wind power forecast by 70%," says Chief Product Officer Jarkko Lipponen from CollectiveCrunch, who is also one of the company founders.
CollectiveCrunch's forecasting model is based on machine learning and utilises electricity production and consumption data collected over decades. Climate and geographic information compiled by the company is also used in modelling. CollectiveCrunch has previously produced similar forecasting models containing tens of millions of data points for needs in, for example, the forest industry.
The CollectiveCrunch team didn't have any previous experience in the energy industry, so they welcomed the advance sparring provided by a Fingrid mentor.
"The mentor helped us understand Fingrid's challenges and what the company wanted from the forecasting models. We learned about the forecast-related challenges that renewable energy sources bring to electricity and grid company business."
Although Lipponen didn't know much about Fingrid at the beginning, he now has a good grasp of how the company works.
"I got a good picture of a dynamic and market-driven company that gets things done."
Modern interfaces and virtual networks
The three-person Hub Hackers team from the software company Solteq produced an application that addresses the challenges of data collection in a decentralised electricity grid and demand response.
The experienced Hub Hackers team had a good starting point for the competition – after all, its members have been producing solutions for the energy industry for more than 10 years. They had also creating solutions for Fingrid recently. Although the topics of the challenges were clearly defined, the competitors were given space to use their imagination and expertise.
"It was immediately clear that , in terms of developing solutions, Fingrid's topics were important for the industry and globally," recalls Software Consultant Perttu Venermo from Solteq.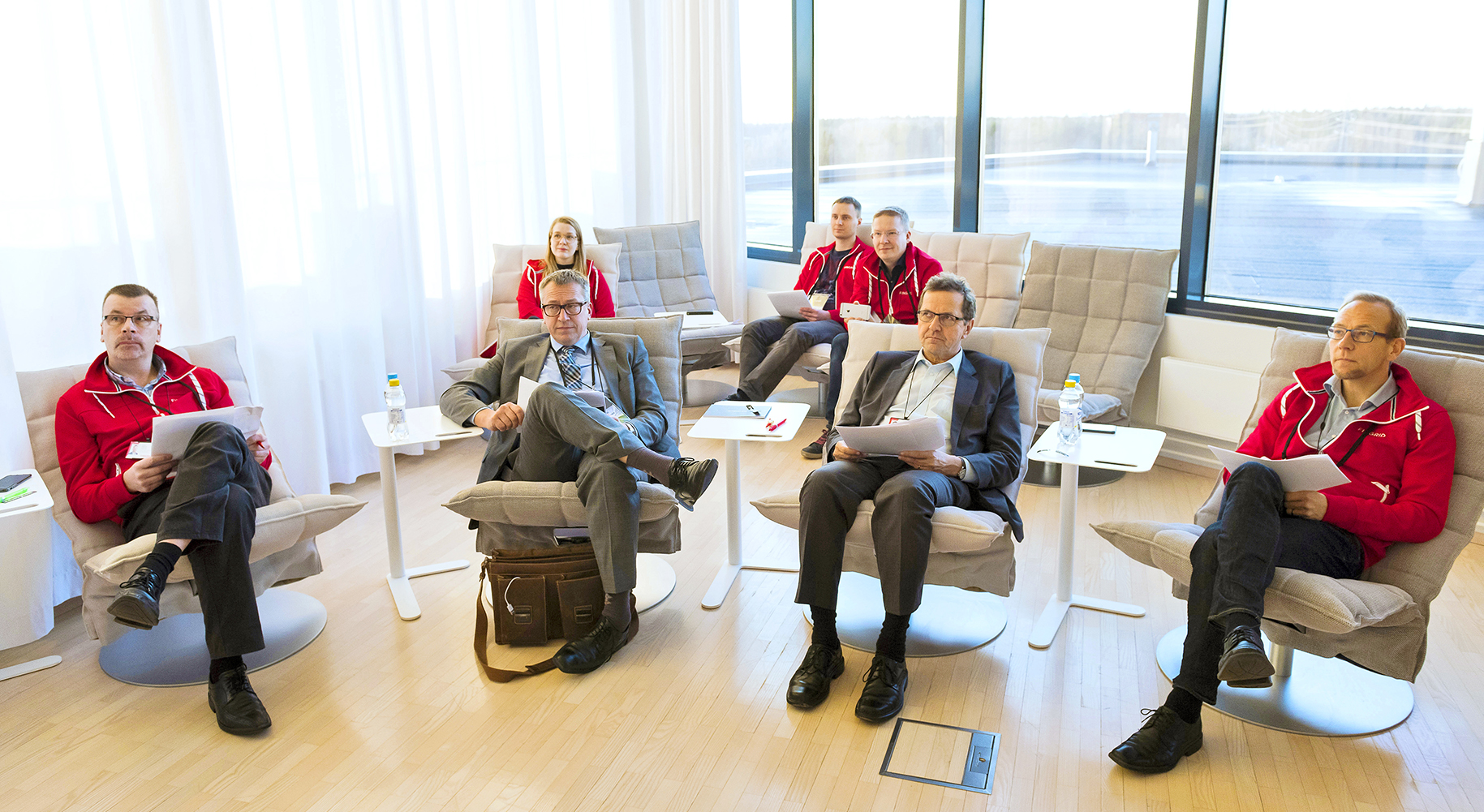 The idea in the Hub Hackers application involved using modern interfaces to provide an easy route to demand response information exchange, and simultaneously visualise the situation for different parties. A virtual electricity grid based on real-time production information and demand response was presented as an example. It simulated how operators joining demand response in the future would affect increases and decreases in consumption – and how peaks could be balanced with new reserve actors.
During the two-day hackathlon, work went on late into the night and – for some – continued into the early morning for some teams.
"Those two days were like a class trip that we spent in our own room, where we were able to concentrate on this task alone. We worked really hard, and this was a very refreshing experience for us."
Venermo says that the hackathlon brought new energy to the whole industry.
"This industry is often considered old-fashioned and boring. The event provided a lot of new ideas from outside the box. It was good to have so many different operators and ideas."
New power for Fingrid
The hackathlon participants were given two alternative challenges inspired by Fingrid's business needs and major changes occurring in the electricity grid. Both are related to managing huge data masses. The first challenge: How can we enable real-time information flows between Fingrid and decentralised electricity production environments, such as electric vehicles and solar panels, in real time and cost-effectively? The second challenge: How can we predict the state of the system by combining and analysing data from various sources like the energy market, the national production capacity and other relevant sources?
Seven of the sixteen teams that applied were selected to Fingrid's two-day event held in mid-November. Four winners were chosen, and cooperation with them will continue at least in the form of pilot projects in spring 2018. Each pilot project is worth 20,000 euros.
What made an impression on the organisers?
"The teams managed to produce very high-quality presentations in the two days. Many looked like they had been prepared for two months. The teams were very dedicated to this work," says Development Manager Jonne Jäppinen.
As expected, the hackathlon presented Fingrid with new operating methods that will be implemented in the company's work in the future. The expectations for the four winning pilots are high.
"The spring and summer will reveal what kind of new tools they will provide to serve our customers and stakeholders, for example, in the area of developing data transfer methods," says Jäppinen. •
Four winners were chosen, and cooperation with them will continue at least in the form of pilot projects in spring 2018.
Hub Hackers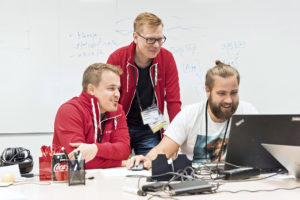 Background community: Solteq is a listed company that was founded in 1982 and employs 500 experts in Finland, Sweden and Poland. It has a long history of working in the energy industry.
Hackathlon solution: An interface and tool used to collect and visually present real-time measurement data from several parties. The functionality of the software solution and visual look of the interface were already highly developed in the hackathlon. This solution, which improves existing Fingrid technology, pays a lot of attention to the benefits for stakeholders – in other words, the service providers. It anticipates very different types of partners that will be entering demand response in the future.
CollectiveCrunch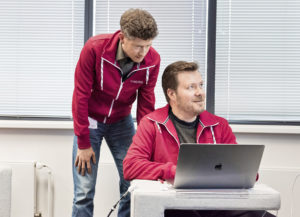 Background community: CollectiveCrunch is a start-up company founded in 2017 in Finland and Germany. It employs seven people and specialises in data analysis and machine learning.
Hackathlon solution: Overall development of a data collection and forecasting system that utilises and analyses tens of millions of data points produced by Fingrid. Even in the planning phase, it already represents a clear improvement on existing forecasting models in many ways. The solution provides several business benefits for Fingrid and its stakeholders.
Koodikeisarit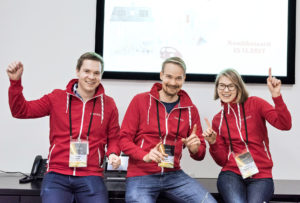 Background communities: The Finnish company Adven, a group of 260 energy experts that operated under the name Fortum Energianratkaisut until 2012, the Rejlers consulting company, which was established in 1942 and employs 2,000 experts in the Nordic countries, and the Norwegian company Visma Software, which has 6,600 employees.
Hackathlon solution: An application that focuses specifically on the transfer of technical electricity grid data. This means how data is transferred from various operator systems to the Fingrid system and the type of interface and tools used for this purpose. This is a very technically-based solution that specifically targets a concrete Fingrid problem.
OmegaPI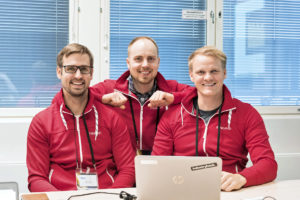 Background communities: VTT Technical Research Centre of Finland Ltd, which produces research services for industry and the electricity distribution company Caruna, which was Fortum's Finnish electricity distribution unit until 2014.
Hackathlon solution: This is a technically well-prepared and highly refined forecasting tool used to predict production capacity for the following week. It is a functional tool that will be ready for piloting after a short period of further development.