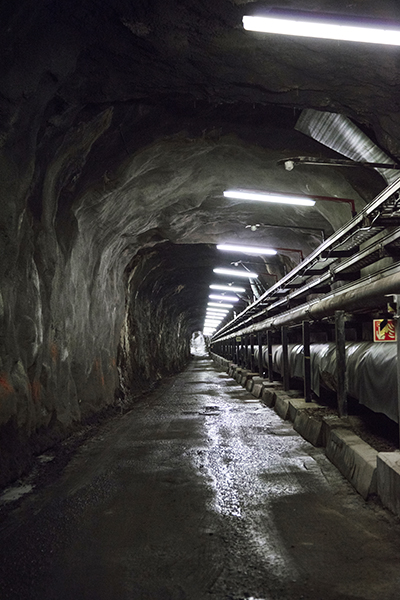 Helen, the City of Helsinki's energy company, is avidly seeking ways of moving away from fossil-based heat generation, particularly from plants burning coal.
"The Hanasaari coal-fired combined heat and power plant will be closed by the end of 2024. We have already planned the solutions to replace it. The Salmisaari combined heat and power plant will stop burning coal at latest by the time the coal ban takes effect in May 2029," says Pirjo Jantunen, Business Development Manager in Helen's Smart Buildings unit.
Jantunen previously worked as Helen's Corporate Social Responsibility Manager and was involved in preparing Helen's strategy. Jantunen also says that the government's emissions reduction targets are ambitious but welcome.
"From Helen's perspective, the variation in heat consumption between summer and winter is a major challenge. We will soon be able to handle the summer by using waste heat, but in the winter, it will still be necessary to burn something for a few more years in order to keep the city warm."
"We are planning a biothermal plant in Vuosaari to replace a large proportion of the generating capacity at Hanasaari. We are also building new heat storage facilities and heat pump plants that use waste heat. We are also cooperating more with our neighbouring companies so we can buy and sell heat as required."
Heat storage facilities in oil caverns and waste heat for district heating
Helen's heat storage facilities are enormous water tanks, which are heated when demand is low. When consumption increases, heat is discharged from the storage facility. A week-level heat storage facility is currently under construction in the oil caverns in Mustikkamaa. When it is completed in 2021, Helen calculates that it will reduce carbon dioxide emissions by 21,000 tonnes per year.
Preliminary plans have also been made for the first seasonal heat storage facility in the disused oil caverns in Kruunuvuorenranta.
"In the summer, the caverns will be filled with warm seawater. In the winter, heat pumps will be used to extract the heat from the seawater in the caverns," Jantunen says.
In addition to storage, Helen is looking for waste heat flows that could be exploited using heat pumps. The existing heat pump plants already collect thermal energy from treated wastewater and from buildings via district cooling and convert it into district heating.
Automation for flexibility and energy-efficiency
Smart, automated solutions help in utilising renewable energy and increase the resilience of the energy system. According to Jantunen, automation digital technologies are essential in developing demand-side management and integrating energy systems.
"For example, if there is plenty of cheap wind power in the market, we can store it in the district heating system. As for transport, we have piloted electric car chargers that charge vehicles but can also take power for the electricity network from the batteries."
Helen offers an energy-efficiency service that reduces the heat consumption of buildings by 5–10 per cent using sensors that measure conditions. A trial project is also underway to test demand-side management for heat generation, where the heating in housing units can be momentarily reduced.
"We are studying whether residents mind if the temperature changes by something like half a degree."
Geothermal and seawater heat in the future
As regards the replacements for the Salmisaari coal-fired combined heat and power plant and the target of being carbon neutral by 2035, Helen is awaiting the development of new technologies before it decides on investments.
"We are interested in geothermal power, small modular nuclear reactors and 'power-to-X' schemes. We are also monitoring the development of seawater heat pumps," Jantunen lists.
External parties will also be called upon to help create ideas for a carbon-neutral future. At the initiative of Helsinki Mayor Jan Vapaavuori, the City of Helsinki is preparing the international Helsinki Energy Challenge, which seeks to identify innovations, technologies and solutions that could provide heat for Helsinki in the future. The prize is one million euros.