Grid planning is how Fingrid prepares for a future in which a significant increase in electricity production and consumption will be required to reach climate targets.
"Preparing for growth also means enabling it. Finland would not attract large industrial investments based on clean electricity if our power grid could not cater for them," explains Mikko Heikkilä, Manager of the Strategic Grid Planning Unit at Fingrid.
If all the investment plans Fingrid has tentatively discussed with its customers were to come to fruition, electricity consumption in Fingrid would more than double. This would be highly challenging for grid planners, requiring them to prepare plans, make choices and manage uncertainties.
A three-pronged attack
Fingrid's planning focuses on three key areas: the electricity system vision, the electricity usage and consumption forecast, and the main grid development plan.
The electricity system vision examines development scenarios for the coming decades, focusing on the big picture.
"Fingrid's forecast of electricity use and consumption, updated twice a year, frames the next decade's trends in more tangible terms," Heikkilä says.
"These two information sources and our discussions with customers planning new connections help us prepare the main grid development plan. In practice, this represents our investment programme for the next ten years."
Based on the planning work, Fingrid invests EUR 300–400 million in the main grid annually. The investment programme for the next ten years stretches to about EUR 4 billion.
Increasingly open planning
More and more information and collaboration is required as the basis for grid planning. Accordingly, Fingrid has made its planning work more open.
"We often publish our plans during the preparatory phase and ask customers and partners to comment on them," Heikkilä says.
"Their feedback has prompted us to increase the amount of offshore wind power in our long-term scenarios and begin preparing for offshore wind power investments, for example."
Heikkilä says that open grid planning provides customers with insight into the development of the power system overall, as well as regional grid planning:
"Customers can influence both of these."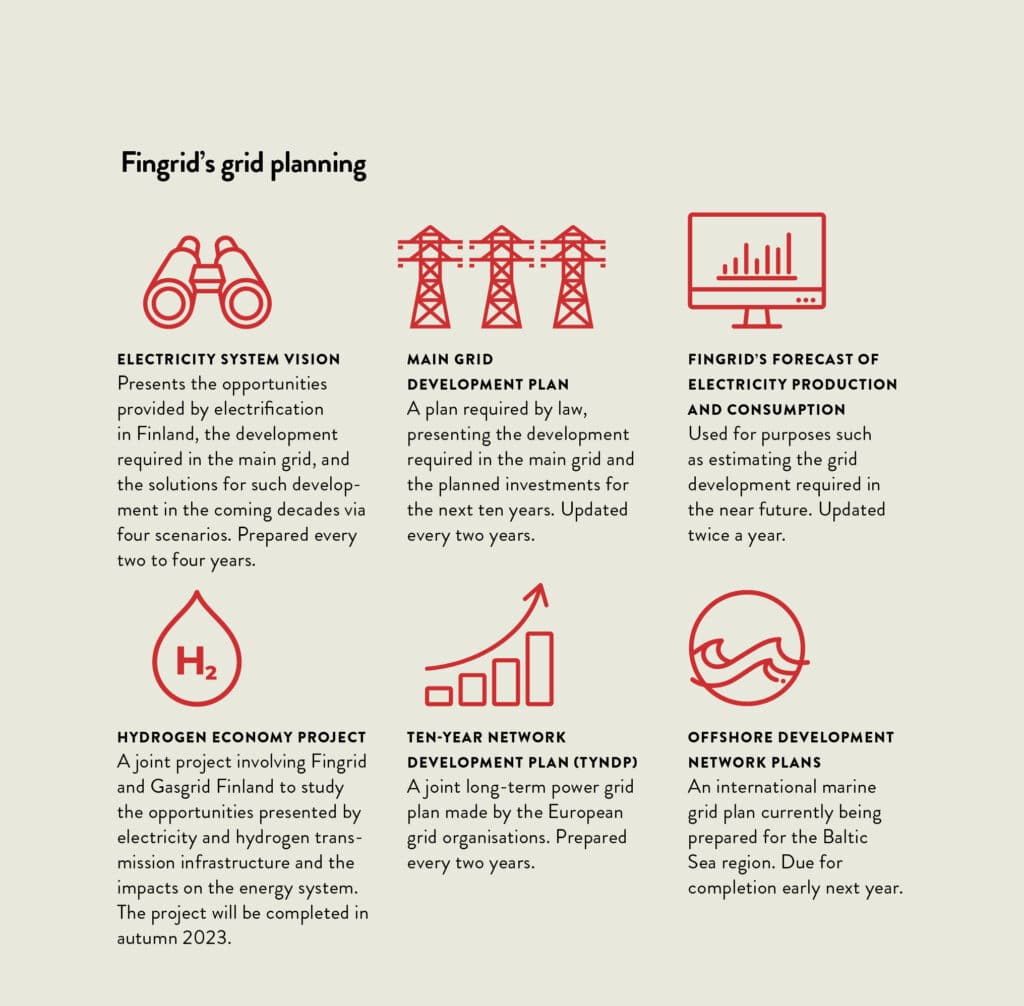 Seeking solutions together
Elenia, a network service company, serves 438,000 customers in more than 100 municipalities in Kanta-Häme, Päijät-Häme, Pirkanmaa, Central Finland, South Ostrobothnia and North Ostrobothnia.
"We have a lot of plans, designs and projects for connections to our network and the main grid, especially due to the increase in
renewable energy production. We work with Fingrid on these almost weekly," says Jorma Myllymäki, Elenia's Executive Vice President responsible for the networks business.
"The key is to reconcile and schedule the plans of both parties so that neither has any nasty surprises."
According to Myllymäki, Elenia also needs Fingrid's insight into nationwide trends. After all, Fingrid and Elenia share a common goal: making Finland a leader in clean energy.
Sparring and dialogue
The electricity system vision and main grid development plan are key tools for the Council of the Oulu Region, which uses these documents and map services to prepare its regional plans.
"This usage also calls for two-way dialogue and cooperation, both of which have increased in recent years," says Erika Kylmänen, the Council's Environmental Manager.
"We inform Fingrid of the developments required in the main grid in our region and the local trends and preconditions for wind and solar power and the hydrogen economy."
Kylmänen says that the main grid development plan circulated for official comments already includes lots of information from them.
"Fingrid's visions and plans are admirably analytical. This is a strong foundation for us to build on together."