The survey shows that customers' expectations towards Fingrid are growing. Why – and what is expected?
The customer feedback survey shows that the recognition of our company has increased by over 10 percentage points (71% of respondents are familiar or very familiar with Fingrid's operations), while customer satisfaction has remained unchanged. We have spoken out in public more boldly and expressed our opinion. Customers feel that, this being the case, we also need to better understand what is significant for them.
Industrial customers are especially calling for cost-effectiveness. For them, electricity is an element of production, and international competitiveness is the largest issue. Electricity producers have needs concerning the functioning of the electricity market, and they expect us to develop the market even more actively. Distribution companies call for well-functioning cooperation, but some smaller operators are worried about the speed of development. In the survey, customers gave Fingrid's operations a good overall grade, 4.0 (on a scale 1–5).
How are customers' requirements met?
During the last 10 years or so, we have undergone an enormous change into an international operator. Fingrid representatives now sit at European tables, preparing and commenting on regulations at the EU level, such as network codes. We are expected to have increasingly more of this kind of influence.
In our everyday work, we listen and talk to our customers more actively than before. We have a decentralised customer service model, meaning that professional expertise determines who we assign to support the customer. In the CRM customer information system, we record what has been done with the customer, so that everybody stays up to speed.
CRM gives us an overall idea about how things are going with our customers in different services. We also use this feedback when training our customer service personnel. Customer satisfaction is an essential indicator for quality bonuses for the entire personnel.
When will Fingrid's electronic services be renewed?
Fingrid offers several electronic services, which function in different ways and do not talk to each other to a sufficient extent. A major renewal project is currently underway, thanks to which we will eventually have a uniform extranet that serves the customer better. At the moment, a roadmap for the project is being compiled and the first changes implemented.
The renewal will introduce new services, such as the open data interface launched in February, which offers market and electricity system information. Our plans also include map-based solutions, which will make it easier to find information. We carry out development work together with our customers and transfer to the new services in stages.
Feedback will continue to be collected in different ways both with electronic surveys and face to face. Development work is carried out each and every day in various formats.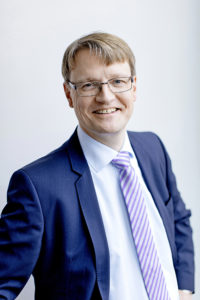 Further information: 
Jussi Jyrinsalo, Senior Vice President, grid services and planning, tel. +358 30 395 5118