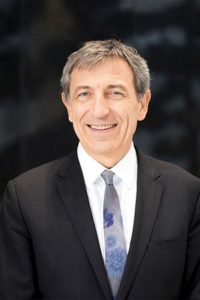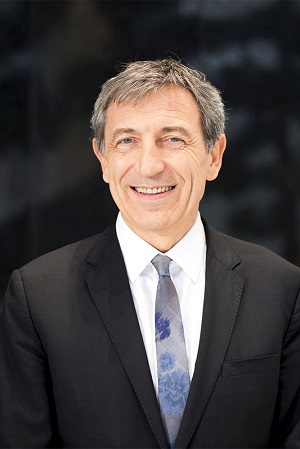 Proud and confident. These are the first two words to come to mind when ENTSO-E President Hervé Laffaye evaluates the first ten years of the European Network of Transmission System Operators for Electricity.
"There is every reason for ENTSO-E and its members to look back on the past ten years with satisfaction. We can be proud of what we have achieved," says Laffaye, who started as ENTSO-E President in the summer.
Laffaye enjoyed a long career with Réseau de Transport d'Electricité (RTE), the French transmission grid company, and is currently the deputy CEO of RTE.
According to Laffaye, the operating environment of European transmission system operators (TSOs) has changed tremendously over the last ten years.
"When ENTSO-E started, we were in the early stages of building a pan-European electricity grid. Electricity generation was largely a national issue."
With the opening of the electricity market and the separation of generation and transmission system operators, TSOs have become a meeting place for electricity market players. Above all, TSOs have entered into much closer cooperation.
"We now have a truly pan-European community of TSOs," Laffaye says.
ENTSO-E is Fingrid's new family
Fingrid's CEO, Jukka Ruusunen, agrees. He says that Europe has come a lot closer in ten years.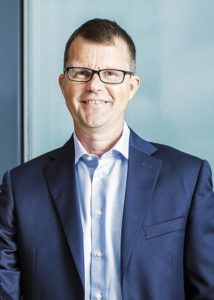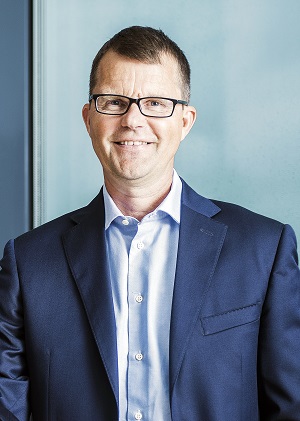 "We are currently living through a period of intense Europeanisation in the energy sector."
Ruusunen recalls that at the time of Fingrid's establishment in the mid-1990s, the byword for cross-border cooperation was Nordel, the association of Nordic transmission system operators. The Nordel system included the transmission grids of all the Nordic countries and the connections between them. According to Ruusunen, there was close cooperation on the Nordic electricity market, giving rise to a lot of good things. The TSOs shared expertise and data, and they prepared for market changes.
When ENTSO-E was established, it took over Nordel's activities, and ENTSO-E now sets the parameters for Nordic cooperation.
"In a stroke, the family gained more than 40 new members. ENTSO-E is Fingrid's new family and the focal point of our cooperation. Our colleagues and friends are at ENTSO-E," Ruusunen states.
According to Ruusunen, a single internal market and a common European playing field have brought stability and predictability to the operations of transmission system operators.
At the same time, operations are more complex, transmission system operators' operating cultures differ and much remains to be done to complete the internal electricity market. But just as Finland is involved in developing the EU, Fingrid is making an active contribution to driving the European electricity market forward.
"The world has become smaller for Fingrid and every other European TSO," Ruusunen summarises.
ENTSO-E shows the way
Ruusunen points out that Nordic cooperation was based on voluntary activities and national legislation. The situation is different now: ENTSO-E cooperation is rooted in EU legislation. ENTSO-E is not only a cooperation organisation for transmission system operators but also an official EU body in this field.
The EU-wide integration of the electricity market began in 1996 when the Directive on common rules for the internal market in electricity entered into force. In 2009, the Third Energy Package gave birth to ENTSO-E and gave it a legal mandate to draft the network codes. Laffaye points out that over the last ten years, ENTSO-E has worked with national energy agencies and transmission system operators to develop a European market code, a code of conduct, an access code and a code for electricity networks. Network codes are a crucial element in the completion of the internal market for electricity and in achieving the EU's climate and energy goals. Some of the network codes are still awaiting full implementation in the Member States.
In addition, as an institutional and impartial actor, ENTSO-E will provide the long-term development plan for the European electricity grid, prepare evaluations of the reliability of the electricity supply and conduct research on current issues.
"ENTSO-E plays an important role as a technical advisor, forecaster and trendsetter," says Ruusunen.
According to Laffaye, one of the key objectives of ENTSO-E is to ensure a high-quality service and security of electricity supply in the European market. "We have succeeded in achieving both of these goals. In the last ten years, no major blackout has occurred in the EU countries."
The next step on the read to development is to integrate national balancing energy markets. Future European trading platforms will enable balancing energy products to be exchanged between distribution system operators. This will boost the efficiency of cross-border transmission and improve the security of supply. Market integration will also facilitate the integration of renewable energy into the grid and increase competition on European electricity markets.
Towards a cost-effective energy transition
According to the President of the ENTSO-E, the next decade is not shaping up to be any calmer than the current one. Combating climate change is a challenge that unites everyone. Every aspect of the economy must be made sustainable. In the electricity market, of course, this means zero-emission power generation.
"Ten years ago, renewable energy had to adapt to the market; now, the market has to adapt to renewable energy. There is an ongoing shift in the way we generate and consume electricity," Laffaye describes.
Renewable energy is variable by nature, and it poses many new questions. Laffaye points out that upgrading existing systems is no longer enough and that TSOs will have to rethink many things.
According to Ruusunen, the challenges of grid infrastructure are often overlooked in public discourse.
"The grid infrastructure is hidden, but it is crucial for clean energy generation in EU countries."
Electricity networks all over Europe require significantly more investment in order to serve a more diverse energy system, which combines decentralised generation with an increasing number of electric cars, heat pumps and other grid-connected technologies.
"Amid all this change, our TSOs still need to make sure that the lights stay on and promote the efficient functioning of the markets," Laffaye points out.
According to Laffaye, the ENTSO-E fully supports its members and does its best to provide a safe, controlled and cost-effective energy transition for all Europeans.
At least, the uncertain political environment does not facilitate the task. One example is the future relationship between the EU and Britain.
"Whatever it turns out to be, I hope that Britain will remain a part of ENTSO-E and our cooperation. Electricity will continue to flow through the networks, and we both need each other."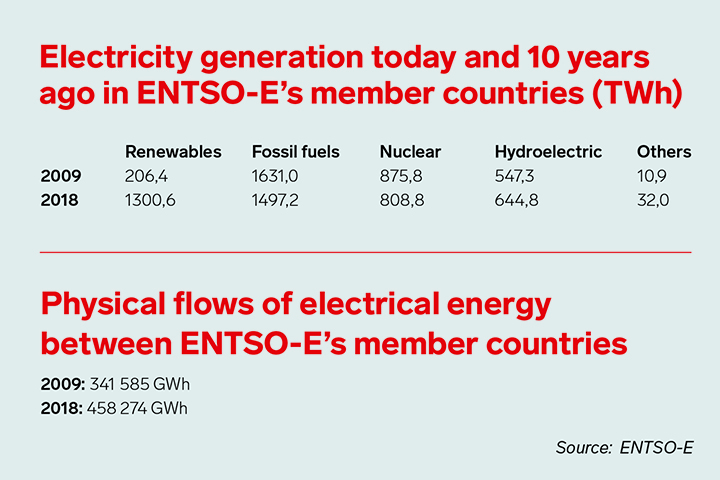 The importance of openness is growing
Laffaye says that transparency is one of the core principles of ENTSO-E. It requires constant listening and learning. Laffaye praises Fingrid for actively contributing to the development of ENTSO-E and bringing with it many innovations.
Ruusunen points out that Fingrid can learn a lot from other European TSOs, and at the same time, it has a lot to offer others. One of Fingrid's special features is its openness towards the surrounding society.
"The importance of openness will only increase in the future in every aspect of life, and the TSOs are no exception."
Openness is also evident in close customer cooperation.
"We experiment, innovate and develop with our customers. This is one tangible thing that could be learned elsewhere in Europe," Ruusunen says.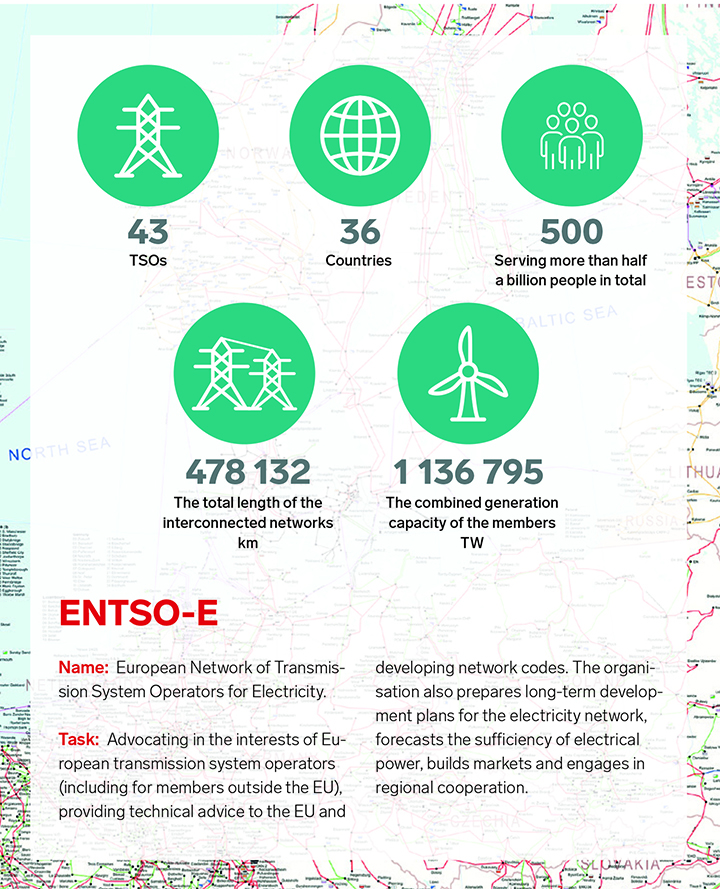 Many reasons for optimism
Amid the changes, Laffaye and Ruusunen are certain about one thing: the importance of ENTSO-E will only grow in the future.
"ENTSO-E is a respected and trusted player. It is essential for ENTSO-E to maintain its credibility in the future," says Ruusunen.
The energy transition will require difficult decisions to be taken, but according to Ruusunen, it will be possible to overcome any difficulties as long as transmission system operators are trusted.
"We need to make sure that people continue to feel that TSOs are on the side of society."
Despite the challenges, Laffaye is looking forward to the future.
"The main reason for optimism is our business: electricity is the energy of the future."
The importance of electricity in society is growing from every perspective.
"It's much easier to solve problems when you are part of a growing industry. And above all, we can solve problems together. We have a great future ahead," Laffaye summarises.