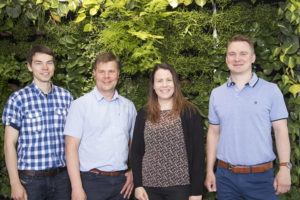 This autumn, Fingrid will publish the new Main Grid Development Plan for 2017–2027 on its website. The development plan, which has been making the round for comments during the summer, contains Fingrid's investments in cross-border transmission connections, the main power transmission grid and the regional 110 kilovolt grid as well as a description of how Fingrid plans the main grid.
Planning of Finland's internal main grid investments, which affect cross-border transmission connections and cross-border transmission capacity, is done in cooperation with transmission system operators (TSO) in the Baltic region. These plans are coordinated with the Ten-Year Network Development Plan (TYNDP) that covers all of Europe.
"We publish the Main Grid Development Plan every second year. It provides a picture of Fingrid's investment plan at that time. The plan is flexible and reflects the operating environment," explains Grid Planning Specialist Kaisa Nykänen.
The energy sector is going through a huge change. Renewable energy sources are replacing fossil fuel-based electricity production at an increasing pace. This development is reducing emissions and a lot of adjustable power production capacity will be replaced by wind and solar power that varies according to the weather. Finland's dependence on electricity is growing at the same time.
"This means that the main grid must be stronger and more reliable than ever," summarises Aki Laurila, who is a manager in Fingrid's Grid Planning unit.
During the next ten years, Fingrid will invest a total of around EUR 1.2 billion in the main grid, or about EUR 100 million every year. The investment levels correspond to annual depreciations.
Regional grid planning is cooperation
Fingrid carries out regional grid planning in 12 planning areas. The regional grid plan is updated every 3–5 years. This year, the Lapland, Sea Lapland, Oulu area and Kainuu regional power transmission grids are scheduled for updating.
"Our customers' development plans provide an important starting point when we plan and develop the entity. One obvious goal that we share is an electricity grid that functions as well as possible," states Senior Grid Planning Expert Antero Reilander.
Grid Planning Specialist Juhani Tonteri also emphasises the importance of local expertise.
"This kind of customer cooperation has been successful for a couple of decades already, and we've improved it on the basis of feedback. The views and know-how of our customers concerning development of the local operating environment are really important to us," says Tonteri.
Grid planning is a continuous process. The plans are also revised between the update rounds if rapid changes occur in the operating environment. The increased use of wind power in recent decades has required particularly close cooperation between customers and stakeholders in order to connect all of the realised projects to the grid on schedule and in a cost-effective manner.