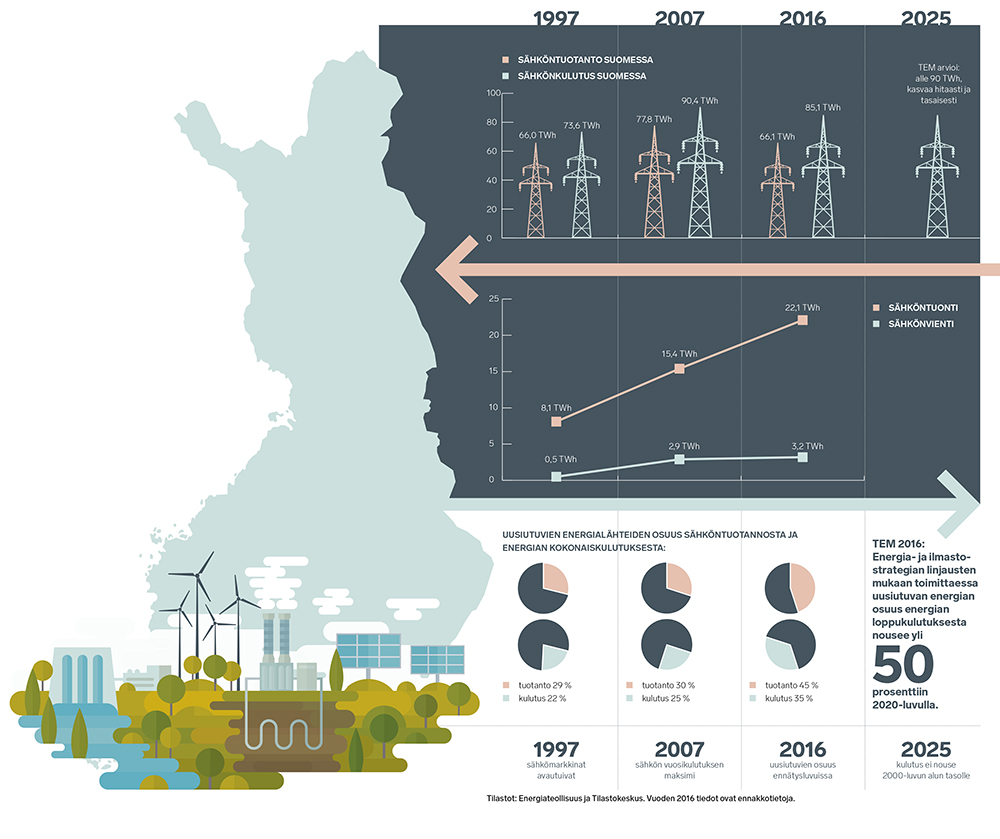 Finland's electricity market opened up to competition in 1997. After Finland joined the European Union in 1995, we also gradually joined Europe's internal electricity market. Grid integration and market structure harmonisation has taken place at an increasing pace during the 2000s. The focus of electricity market development in the 1990s was in Finland, but it shifted to the Nordic countries in 2000–2010 and to Europe during this decade.
In 2007, Finland experienced its all-time peak in annual electricity consumption. After that, consumption decreased as a result of the recession, the decline of the paper industry in Finland, structural changes in industry, technology and lighting development, and campaigns to protect the climate. New factors that increase consumption include the growing popularity of electric cars and data centres planned for Finland. According to a Ministry of Economic Affairs and Employment (MEAE) estimate, consumption will grow steadily but will not reach the levels of the early 2000s, at least not before 2025.
Imports from Russia have dropped radically since 2011, when Russia raised its export prices significantly. Replacement electricity is imported from the Nordic countries, mostly from Sweden. On the other hand, we also export electricity to the Nordic countries at times, and especially to the Baltic countries. New submarine cable connections have nearly doubled the electricity transmission capacity: Fenno-Skan 2 (2011) and EstLink 2 (2014).
The share of renewables has increased continuously over the past 20 years. Since the market opened up, renewable energy has accounted for a greater share of the electricity consumed in Finland because we import more Nordic hydro and wind power. Wind power has strong state support in Sweden and in Denmark, which has made the relative price of electricity produced with condensing power in Finland too high. Carbon dioxide emissions have decreased significantly.