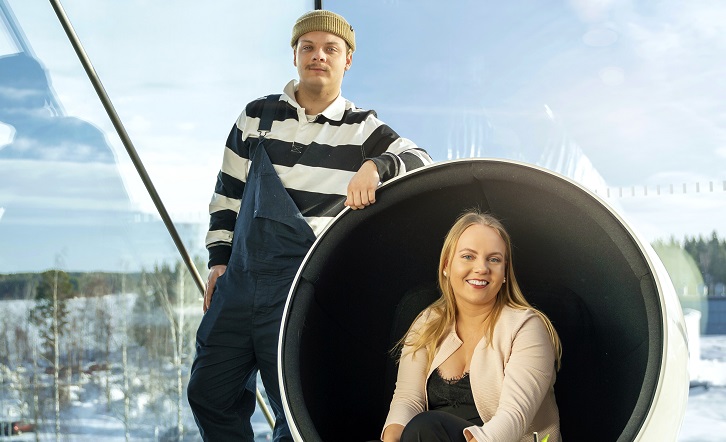 Although Fingrid continues to need traditional electrical engineering experts, we also value, for example, electricity market competence. A combination of technology and economics is a good starting point in this industry. In addition to the energy transformation, the industry now involves a lot of regulation and legislative preparation at the EU level. Communications technology has become an important part of the sector, so we also need ICT experts. In addition, Fingrid has positions in communications and in the areas of HR, finance, safety and the environment," says Tiina Miettinen, Fingrid's Senior Vice President, HR and Communications.
Along with a degree, employers in the energy industry are looking for working life skills, especially in the areas of marketing, communications, customer service, interaction, negotiating, presentation and team work. Information technology and language skills are also beneficial.
"Working in a multidisciplinary team means that an employee has to be able to communicate with experts in other fields. Substance expertise is not enough. One of the most important qualities in an employee is the desire to continuously develop their competence. Flexibility is also a good attribute," states Miettinen.
After graduation, energy industry students are in high demand for jobs in places like design agencies, power plants, energy companies, electricity and grid companies, nuclear power plants, technology development companies, and the Energy Authority.
Fingrid has some 360 employees and approximately 10–20 new permanent employees are hired each year. The company offers summer and thesis work positions for dozens of students.
The energy industry transformation is visible in education
Many universities and universities of applied sciences offer educational programmes that are specifically linked to the energy market transformation. Here are a few examples.
Aalto university
Expert: Sanna Syri, Professor of Energy Technology and Energy Economics, member of Fingrid's Board of Directors
The energy research fields at Aalto University are sustainable energy production, energy storage and conversion, power technology, energy in the built environment, as well as energy systems and the resource economy. Energy technology studies begin with bachelor's programme called Energy and Environmental Engineering, which is followed by master's studies in English.
The Advanced Energy Solutions master's programme established in 2017 includes four different fields, one of which is Sustainable Energy Systems and Markets. Approximately 120 students are accepted into the master's programme each year, with about 40 coming from other universities and countries. Aalto's Energy Platform brings together multidisciplinary research related to energy.
Now we need people who have been trained to understand the consequences of climate change as a whole and develop actions to prevent it.
Tampere University
Expert: Pertti Järventausta, Professor of Power Engineering
Traditional electrical energy engineering studies take into account renewable forms of energy, electrical energy storage, electricity grids and electricity markets as well as the related ICT systems. Approximately 50 master's theses are completed in electrical energy engineering each year.
The fields of environmental, energy and biotechnology combine natural sciences with engineering sciences. Energy policy and energy legislation are a strong element in the studies via cooperation with the Faculty of Management and Business. Tampere University and Tampere University of Applied Sciences jointly arrange a multidisciplinary minor called "Renewing Energy System and Society", which combines technology, business and social sciences. The university's Energy group brings experts together for cross-disciplinary discussion. A key theme in teaching and research is responding to the challenges caused by climate change.
LUT university
Expert: Jarmo Partanen, Professor of Electrical Energy Engineering
Energy is the most important strength of LUT University, and we provide the opportunity to study it very extensively. LUT University's objective is to not only understand but also further the energy transformation in collaboration with companies in the industry.
The departments in LUT School of Energy Systems are energy technology, electrical engineering, sustainability science and mechanical engineering. Although the basic physical matters remain unchanged, renewable forms of energy, nuclear energy technology, synthetic fuels, energy storages and preventing climate change in its entirety have become central parts of the studies. Understanding the energy markets and digitalisation are also important areas. The Doctoral School cooperates closely with companies in the industry to develop energy systems.
Metropolia University of Applied Sciences
Expert: Tomi Hämäläinen, Lecturer in Energy and Environmental Technology
Approximately 60 students are selected for the Energy and Environmental Technology degree programme each year. The common studies include the basic natural sciences courses, communications and languages that are part of engineering studies. After this, students choose their major – environmental technology or energy production methods. This popular degree programme started in 2014.
Many students choose business and sustainable development courses as the elective studies in their degree. Metropolia also provides the opportunity to study Information and Communication Technology as well as Mechanical, Electrical and Automation Technology, which are applicable in the energy industry.  Students from different fields can participate in the courses and learn multidisciplinary team work skills.
LUT's Energy Technology programme is the number one choice
About this time a year ago, Sanni Tapola and Daniel Ader were planning which programmes to select in the joint university application system. Their first choice was energy technology studies at LUT University. Everything went just right, and both were accepted into their programme of choice.
"When we applied to study here, the future opportunities and diverse range of jobs offered by the energy industry were appealing. The studies have been really interesting, the teaching is high quality and our motivation has only increased," say Tapola and Ader.
Along with mathematics and physics, the first year studies already included energy-related courses. Sanni Tapola says that she's interested in nuclear energy and, for example, very enthusiastic about reaction calculation. On the other hand, Daniel Ader already had an interest in physics when he came to the university. The challenging course work has given him the opportunity to develop his calculation skills in this area. Renewable bioenergy is a topic close to his heart.
"Hopefully, jobs in the future will give us the chance to influence the state of our planet and implement sustainable development solutions," say Tapola and Ader.