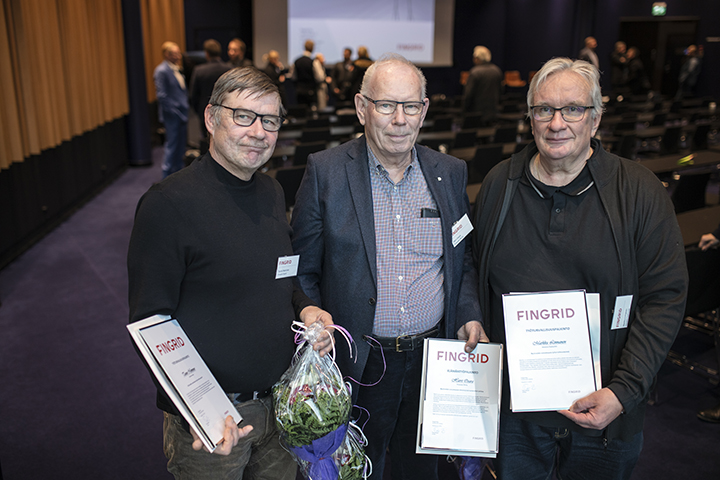 The lifetime achievement award was bestowed on Harri Osara, a specialist who has done long-term work to promote safety. Osara began his network construction career in 1976. He has worked for Empower since 1990, and he has also worked on sites abroad.
"Since I began working about 40 years ago, the state of occupational safety has improved dramatically. On my most recent worksite – the Koria substation – we did about 700 days' work with no accidents."
Osara won plaudits for his good orientation training.
"Occupational safety is the first thing to address during orientation on worksites. Every conceivable hazard must be highlighted. In addition, the kick-off meetings for each work phase may be more important than general orientation."
Active communication is also a part of the worksite manager's everyday duties.
"Communication mainly means sharing information. Designers, colleagues and subordinates need to know what we are doing at all times. This is made more challenging when people come and go at a brisk rate. Despite this, there is no room for information gaps."
According to Osara, supervising and monitoring various things consumes a lot of working time.
"Fortunately, we have new tools such as the Quentic app to make this job easier. This is a good trend. However, the most important thing is to ensure safety."
Alertness in difficult circumstances
Markku Linnanen, Worksite Manager at Siemens, received an award for setting an excellent example and actively participating in the development of occupational safety. He was also praised for his diligent use of the reporting system.
Linnanen received special thanks for assisting Fingrid in rectifying a major fault while taking care of occupational safety in challenging conditions. A current transformer exploded at the old substation in Olkiluoto while a new substation was under construction next to it.
According to Linnanen the situation arose without any warning.
"I noticed flames, and I called the control centre. In incidents like this, you've just got to do what you think is necessary. When the fire brigade arrived, I directed them to the site."
Linnanen says that working life – including safety – means continuous learning.
"Nobody learns these things overnight. It's more of an evolution through experience."
A leader on challenging worksites
Tauno Nieminen, Worksite Manager for Omexom, was rewarded for his observations of occupational safety shortcomings, use of the reporting system and swift rectification of problems. Nieminen also encourages others to contribute to improving occupational safety.
Nieminen won recognition for his management style on challenging worksites.
"The refurbishment of the Nurmijärvi substation required a major effort over the course of two years. It was challenging because the substation was in use throughout the work. When you are building something new near live switchyards, you need a stronger focus on safety."
All of the award-winners highlighted the importance of having the right attitude. According to Nieminen, occupational safety seminars play an important role in internalising an attitude of safety.
"I've enjoyed attending the seminars, and I hope Fingrid will continue holding them. It's nice to meet colleagues and hear the latest information on the topic."