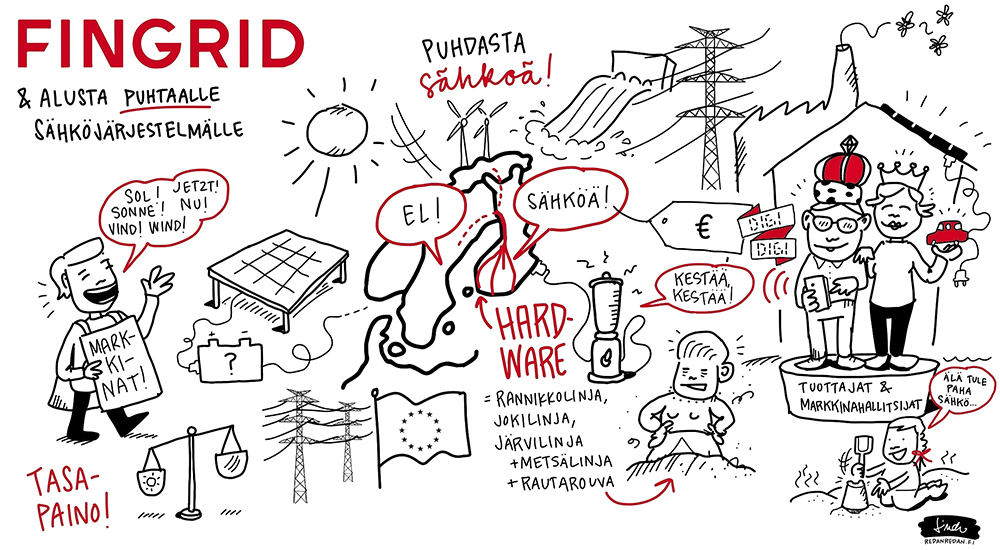 The journey towards a low-carbon, clean power system is underway. In a clean power system, we obtain electricity from hydro, wind, solar and nuclear power as well as from joint electricity and heat production based on biomass. Customers are at the heart of this system. Dynamic and complicated are good words to describe a clean power system, as are flexibility and cost-effective.
A clean power system requires a strong platform, and Fingrid's role is to create it. As a platform builder, we have three main tasks:
We build, maintain and develop the electricity transmission main grid and cross-border connections in a long-term manner to meet future needs.
We monitor the power system at every moment and effectively deal with disturbances to ensure that society has access to reliable electricity also in the future.
We renew the electricity market in an increasingly real-time and market-based direction.
This work will require continued smooth collaboration with our partners.
We have to pay close attention to future power system needs in order to allow the connection of clean electricity production to the main grid. Flexibility in electricity consumption and production will be an integral part of the future power system. The target is to make it possible for all flexibility in electricity consumption, production and electricity storages to participate in the electricity market, and also to reward the ability to be flexible.
An illustration shows more
Based on our discussion, illustrator Linda Saukko-Rauta produced a drawing of what a clean power system and Fingrid's role as a platform builder means.
Watch a video of the drawing work: