S Group's wind farm in Eurajoki will be completed in 2024. The 13 wind turbines will provide the retail group with as much renewable electricity as it consumes – approximately one terawatt.
"More than 80 per cent of our electricity consumption is already produced with wind power. Our last major investment was a wind farm with 27 wind turbines in Sarvisuo, Simo. On top of this, more than 100,000 solar panels cater for about five per cent of the local electricity demand," says Mikko Halonen, Managing Director of S-Voima.
Next year, S Group will produce the electricity it consumes, amounting to approximately 1 TWh of renewable energy.
Just over ten years ago, S Group decided to focus on producing electricity itself.
"We chose this path because the hedging options in the electricity market had already become challenging. The situation is even tougher today because of very poor liquidity on the market,"
Halonen points out.
At the same time, the retail outlets have boosted their energy efficiency, largely thanks to modernised refrigeration equipment, technical building services and lighting. As a result, the retail group's energy consumption has decreased by 40 per cent since 2010.
"We have replaced 40–50 per cent of our refrigeration equipment with modern, energy-efficient machines using natural refrigerants that are more environmentally friendly than conventional refrigerants. The EU also requires refrigeration equipment to be modernised by the end of the decade," says Matti Loukkola, Head of Real Estate Energy Management at S Group.
The aim is to recover the surplus heat from refrigeration equipment and use it in shops. LED lighting is used on a large scale, with fluorescent lighting used to a lesser extent.
S Group aims to make its own operations carbon-negative by 2025.
K Group focusing on reducing emissions
At the start of this year, Kesko purchased about one-fifth of its electricity under procurement contracts with two wind farms operated by WPD and Gasum. In addition, solar panels on the roofs of shops produced approximately two per cent of the company's electricity.
Approximately 1/5 of the electricity purchased by Kesko is from wind farms.
K Group consumed approximately 672 gigawatt-hours of electricity in 2021, up from 645 gigawatt-hours in 2011.
"However, our volumes, service offerings and opening hours have all expanded since 2011. Therefore, our specific consumption per unit of floor area has decreased substantially," says Antti Kokkonen, Building Services Manager at Kesko.
K Group has also enhanced its energy efficiency by modernising refrigeration equipment and lighting and utilising waste heat.
"Reductions in emissions are more a relevant factor than reduced electricity consumption. For example, heat pumps and charging points for electric vehicles increase electricity consumption but reduce emissions."
Kesko aims to become carbon neutral by 2025 and emission-free by 2030.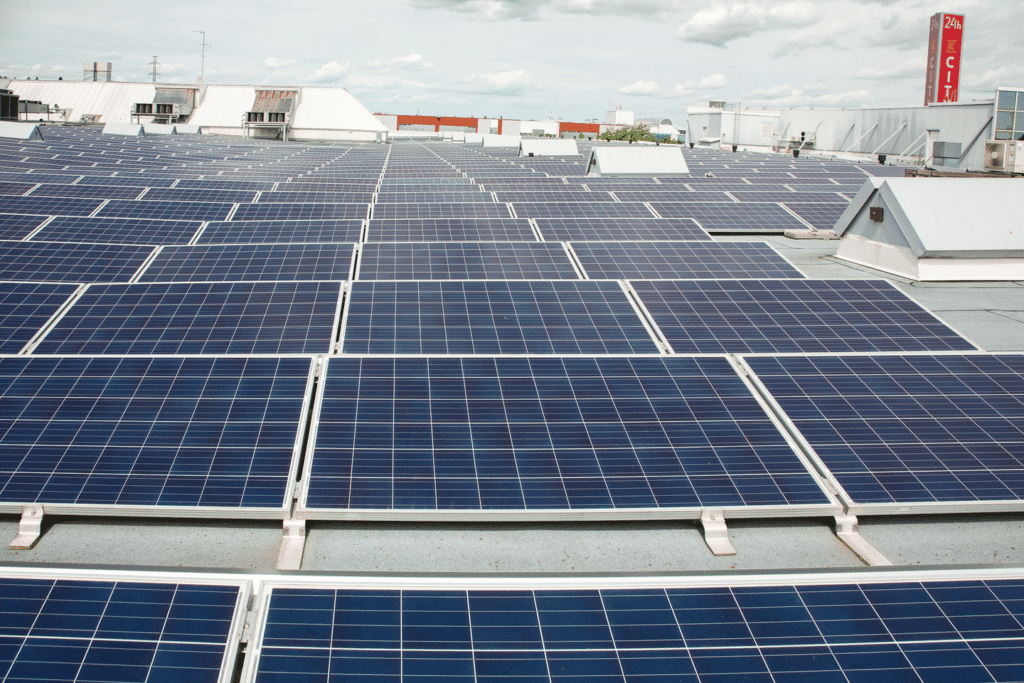 Lidl encourages suppliers to become carbon neutral
Lidl consumed 109 gigawatt-hours of electricity in 2021, compared with 33 gigawatt-hours in 2012.
The growth is explained by the rapid expansion of the company, a relative newcomer to the market. Today, Lidl has 202 shops and it invests in energy efficiency.
Solar panels produce approximately 20 % of the electricity consumed at Lidl's distribution centres and 30 stores.
"All three of our distribution centres and more than 30 of our stores have solar panels, which produce approximately 20 per cent of the energy consumed on these sites annually. We only buy renewable electricity," says Katri Tuovinen, Energy Manager at Lidl.
Lidl has also modernised and adjusted its refrigeration equipment and lighting, utilised waste heat, and optimised its technical building services. Lidl's own operations are carbon neutral.
"We are now encouraging our suppliers to become carbon neutral," Tuovinen says.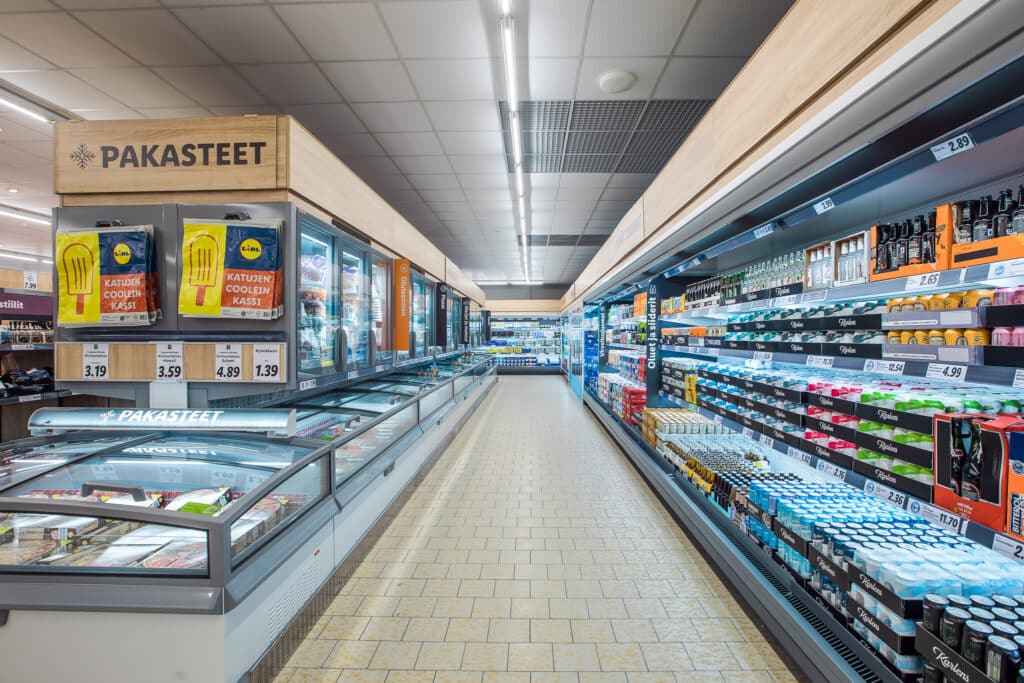 Preparing for extraordinary
S Group, K Group and Lidl made contingency plans to save electricity in this unusual winter and cope with potential electricity shortages.
In-store electricity consumption has been further reduced by means such as lowering the lighting and optimising the automation of technical building services.
If Fingrid issues a warning of an impending electricity shortage, even more drastic measures can be taken. For example, in-store bakeries can be closed. In the event of a power cut, UPS devices allow time to clear the checkout queues and close the stores.
The retail enterprises estimate that they could survive a power cut lasting at least one hour without breaking the cold chains of food products.