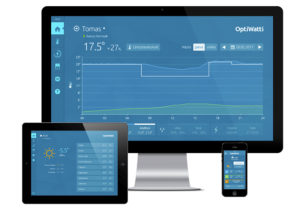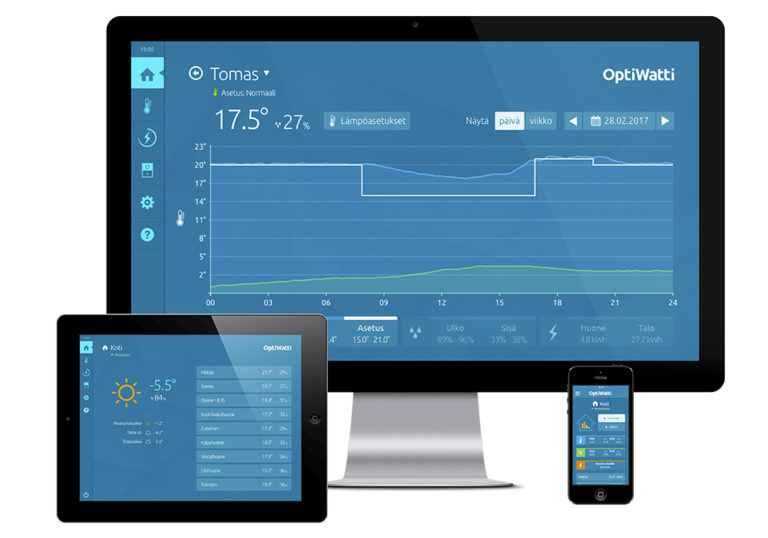 Smart energy management is an effective way to reduce a property's energy consumption and carbon dioxide emissions. OptiWatti is suitable for homes, cottages and large properties. User comfort improves when the temperature can be adjusted in advance, also using a mobile device. The room-specific optimisation of temperatures according to needs can mean big savings in energy costs.
"The amount of savings depends on the usage of the facilities. The biggest savings are usually achieved in properties where the utilisation varies greatly. These include day care centres and accommodation facilities," explains OptiWatti's CEO Ari Tolonen.
Even older properties can be brought up to date by equipping them with a smart energy management system. Installation takes place without wiring  and without major renovation work. Communication between the devices is handled via wireless radio technology. Sensors measure the conditions in every room and heating is adjusted as needed. An electrical contractor authorised by OptiWatti performs the installation work.
The user experience has been carefully considered during product development.
"Although the system contains a huge amount of information, we've made management as simple as possible for the user. We receive a lot of feedback from users about how easy it is to use OptiWatti."
The system is under constant development and the company listens carefully to user feedback.
"For example, customers have requested the possibility to control lighting, which is not part of the package so far."
The system can be managed with a computer, tablet or smart phone. OptiWatti operates online so it requires an internet connection.
"If the customer has no existing connection, we can install a mobile broadband with the system.
OptiWatti utilises local weather forecasts and calculates the heating demand in advance. The system also takes electricity exchange prices into account and strives to utilise the most moderately priced hours for heating.
Energy Efficiency Expert Päivi Suur-Uski from Motiva sees a need for energy management systems like OptiWatti.
"Energy management automation should be added to every home. Not much automation is used at this time, but adjustment will become more important as the energy market changes. I believe that automation will also increase in other home appliances so that, for instance, washing machines could be turned on when the price of energy is lowest."
OptiWatti
Among others, controls
Electric radiators
Ceiling and floor heating
Air-source heat pumps
Household boilers
Car heating
Functions
Room-specific heating optimisation
Automatic electricity exchange optimisation when the customer has a hourly price-based electricity agreement
Alarm limits for temperature and humidity
Requires an internet connection
Applications for Android and iPhone telephones
Pricing example for households 2019:
For 6 rooms basic fee 1,930 € and 7 € monthly fee  with purchase of devices or
basic fee  1158 € and 22,50 € monthly fee with rental of devices.
The basic fee is deductible with household tax. The prices include 24% VAT.
(Prices updated 26.3.2019.)