Building a solar power plant on the roof of your own office building is a good way to gain practical experience of an electricity system that is becoming more common all the time. Fingrid's solar electricity system was implemented in December.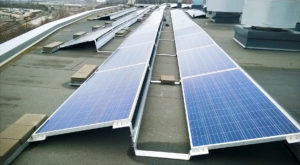 According to Facility Manager Timo Ristikankare, who was responsible for procuring the solar panels, many office facilities are planning to install a power plant on their roof. The situation is good for developers, because th ere are many companies on the market who offer solar panel power plants as turnkey deliveries, which creates real competition for the contracts. Although a lot of companies in this business are small and young, many of them already have a good list of references.
"Before making the procurement decision, we had to ensure that the roof was suitable for construction and obtain permission from the building owner. That was no problem because property investors don't want to prevent good projects," says Ristikankare, who works in Fingrid's corporate security unit.
"Companies want to help prevent climate change. The prices of solar panels have dropped a lot. The benefit of a power plant is the low operating costs after construction," says Sales Manager Antti Lehmuskoski from Solnet Green Energy, which delivered the system to Fingrid.
Lehmuskoski's job description in this project was more diverse than usual: he took part in planning the placement of the panels and also helped build the plant on the roof of the office building.
"I carried things from one place to another. Since I usually work at a desk, it was enough to make my wrists sore!"
Office buildings can be challenging sites, because not all the small poles can be seen in the satellite images that are used in the planning phase. Fingrid's roof also had a lot of technology, so some minor adjustments had to be made on site.
The solar electricity is used for Fingrid's own consumption in the facility. The greatest solar electricity production is generally obtained in May.
In the autumn, Fingrid performed another environmentally friendly act. The parking lot now offers parking places where an electric car can be charged. These places are available to employees and visitors.
Fingrid's solar electricity system
• Nominal power: 45 kWp
• Annual production: appr. 40 MWh
• The roof has 140 solar panels, which are 2 x 1 m
in size.
Electric car charging points
• 6 charging points for staff
• 4 charging points for customers and visitors
Fingrid is a pioneer that initiates discussion on topics related to its industry. In this series, we participate in the discussion by highlighting electric novelties and current phenomena. You can suggest a topic for this page via e-mail: viestinta@fingrid.fi