Responsibility auditing guides conductor procurement
When Fingrid arranged competitive bidding to procure conductors and earthwires used in transmission line projects, one of the most important factors governing the procurement is ensuring that the contractual partner's activities are responsible.
There are a wide variety of conductor manufacturers, and the operations are global in nature. The most competitive production plants are located in Europe and Asia. Bidding for conductors took place in two parts. The first involved arranging an open preliminary selection phase, which was followed by a commercial bidding competition.
Responsibility audits were performed at the production plants of nearly all the supplier candidates as part of the preliminary selection. One of the main focuses of these audits was working conditions. When deficiencies were detected, the suppliers were given the opportunity to improve the activities and a deadline for doing so.
During the commercial phase, repeat audits were held at the plants to ensure the true nature of the changes. The requirements were too stringent for some of the suppliers, but the attitude and improvements made by the Indian company Sterlite, which eventually won the contract, were a positive surprise.
More decaying wood – more biodiversity
Environmental matters and safeguarding natural values are visible throughout the lifecycle of Fingrid projects. We actively monitor new operating methods to reduce environmental impacts and promote biodiversity and evaluate which of them are suitable for main grid construction and maintenance.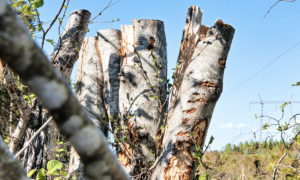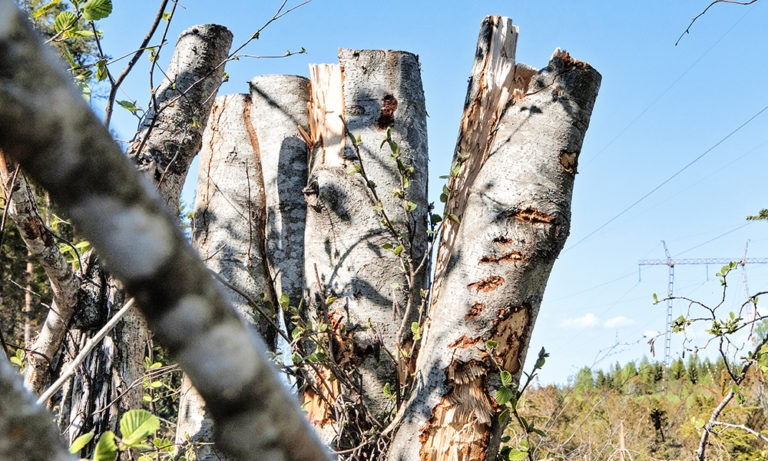 A large number of endangered forest species depend on decaying wood. Fingrid has examined the possibilities to increase the amount of decaying wood, which is critical to maintaining biodiversity, in conjunction with felling performed in forests near transmission lines. According to the model, when Fingrid contacts landowners regarding border zone felling, it also asks them for permission to make so-called artificial snags in the border zones.
An artificial snag is made by cutting a tree at a height of 2–4 meters and leaving it to decay while still standing. The top of the tree is also left in the forest to decompose. Snags are made from trees of lesser value or those which have already died standing. As it decays, the snag provides a habitat and nesting holes for many insect and bird species. Fungi, lichens and mosses also include a lot of species that are dependent on rotting wood.
High-level data security and personal data management
Fingrid's responsibility for our country's power system requires it to prepare for different types of data security threats and risks. As a result, readiness to deal with cyber threats has been normal operating procedure for quite a while already.
The renewed instructions and internal training events associated with the introduction of GDPR have increased our employees' awareness when processing personal data processing. The contact information of customers is centrally managed in the CRM system in the manner required by GDPR. A data protection officer has also been appointed, and this person works with the data protection group to monitor and guide the processing of personal data.
Fingrid is currently preparing for the implementation of Datahub. Data about Finland's 3.5 million electricity accounting points will be saved in Datahub along with a huge amount of personal data regarding electricity users. From the very beginning, Fingrid has taken the data security and privacy protection requirements related to processing such a large amount of personal data into consideration.
Lower main grid transmission fees, tax euros remain in Finland
Fingrid's responsibility is also evident in good finances, which allows Finland to guarantee a reliable electricity supply at low transmission prices. This year (2019), the company lowered the price of main grid transmission by 8%, which means that main grid fees account for just 2.5% of the consumer price. Fingrid has been one of the most reasonably priced European transmission system operators for a long time.
Strong development and the desire to be an international forerunner in transmission system operations are also elements of efficiency, productivity and responsibility. Fingrid has invested more than 100 million euros annually in Finland's main grid. Major investments enable the transition to a clean power system and thus contribute to mitigating climate change.
Fingrid is a large taxpayer that pays its taxes and dividends to Finland. In 2018, it paid more than 33 million euros in taxes. Fingrid is one of the country's 20 largest corporate taxpayers.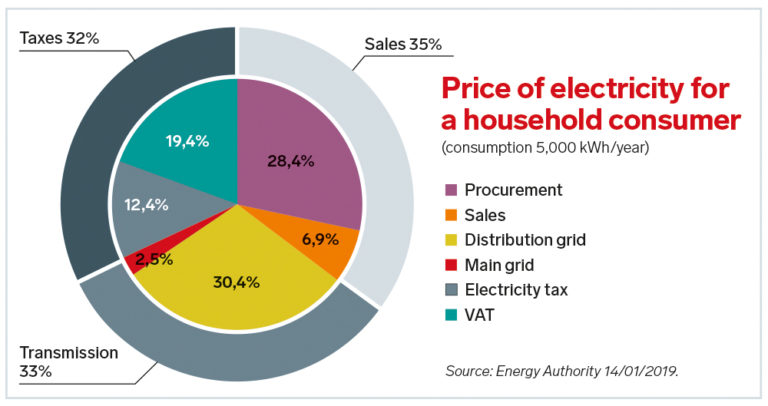 Terms for customer connections
Fingrid has specified technical terms for customer connections. The requirements outlined in these terms and monitoring compliance with them is a form of social responsibility – this is how we safeguard stable operation of the power system.
The connection terms ensure that the customer's electrical equipment:
can tolerate the frequency and voltage variations that occur in the power system.
supports operation in disturbance situations according to its technical capacity, and functions reliably during and after these disturbances.
does not cause damage to other parties when operating in a grid.
The terms also ensure that Fingrid has the necessary information about the customer's electrical equipment.
Typical customer connections include power plants, industrial customers and distribution grid connections connected to a substation or a transmission line. Once operation of a connection has begun, compliance with the requirements is monitored on a regular basis.
My Fingrid service will be implemented in spring 2019, making it even easier to maintain contact and exchange information. My Fingrid will allow customers to monitor the transmission and invoicing data for their connections and to examine disturbance and outage information. In the future, the information exchange required for power plant and demand  connections will also be handled via the service.
Occupational health campaign: "Think for yourself, report it yourself"
Last year's large safety observation campaign encouraged people working at Fingrid worksites and the company's own personnel to report as many observations as possible. It also provided a concrete reminder that occupational safety is everyone's business: "Think for yourself, report it yourself".
During the campaign, 130 different people make a total of over 250 observations related to safety. The campaign made it easier to submit observations, for example, via text message and WhatsApp.
The campaign produced a lot of safety observations concerning hazards related to slipping, tripping or falling from a low height. Many observations were also made about deficiencies related to electrical work, earthing and personal protective equipment.
After submitting an observation, the most important thing is to eliminate the immediate danger. Later on, the observations are reviewed in cooperation with the supplier, corrective measures are specified and their implementation is monitored. Another key target of the campaign is to also learn from the observations!